Cruise To Shelter Island, NY
August 29-Sept. 1, 2012
Al and Maren Schober
Wednesday Aug. 29th - New London - Coecles Harbor
"Where'd it go?! It disappeared."
Today is one of those stellar days. The sun is shining, the sky is blue and clear, the breeze is beckoning and we are going sailing. The weather map shows the sun for the next few days and we are going to take advantage of it. Yes! Inside Stop & Shop making my purchases for the trip, I am filled with joy. We are going sailing!
At home I pack up food, pack up my duffel bag and off we go to the Marina. Al uses our shop vac hose to inflate our dinghy and we are soon underway. Looking about we see only a few boats. It is a 3-hour trip over open water but I never get bored. I am entranced by this gorgeous day. The water is sparkling and looks like it is lit up with diamonds dancing in the sun.
This is like being on some kind of desert, I think. It all looks the same out here and we are alone. Wait...what's that up ahead? Another boat is coming towards us. Like being on a desert seeing another living thing becomes of big interest to me!
"Ouch!" What was that? Looking down at my ankles I see a fly. I see more flies. Al gets the fly swatter and then..."Swat! Swat!". We both take turns with the swatter.
With a loud noise Al hits his mark and suddenly there is blood in the cockpit.
"That's disgusting!" I mutter but I am glad to see some flies drop. We never get them all, but we do the best we can.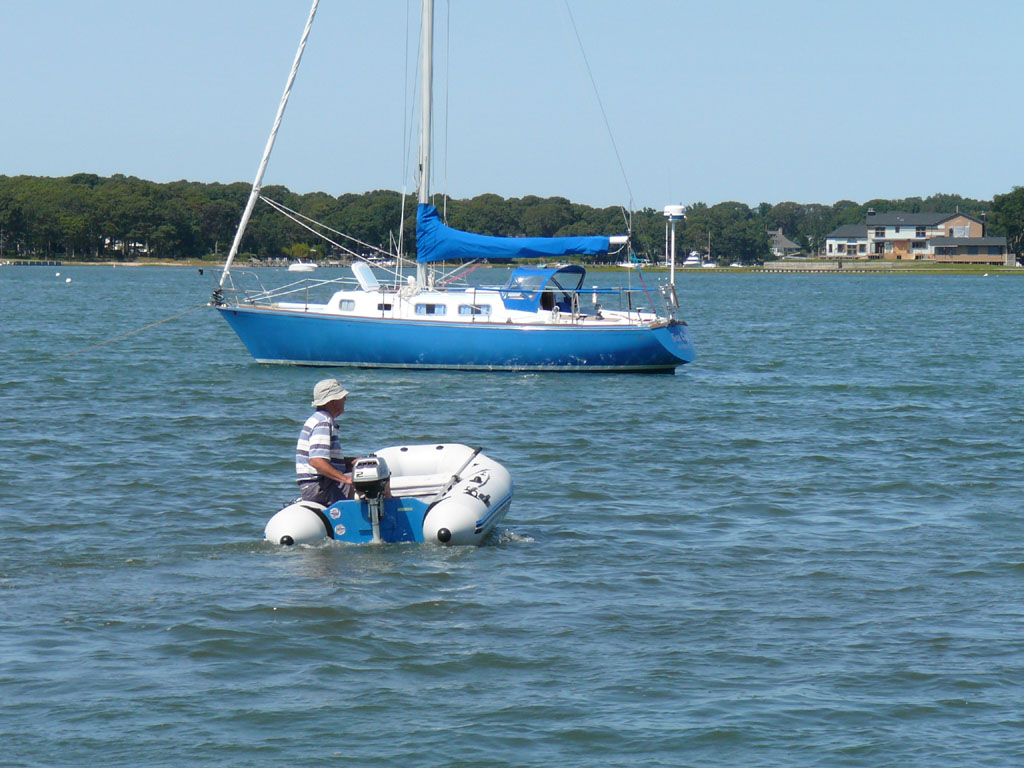 At anchor inside Coecle's Harbor Al discovers he forgot something.
"I can't believe I forgot the gas can for the dinghy," Al bewails.
"We have no gas for the dinghy - just the little bit that's in the engine. We have plenty of gas on the boat, but it is down in the tank and I have no way to get it into the engine for the dinghy."
Meanwhile down in the galley I make my own mistake. While getting our supper ready, I spill my glass of wine on the counter top.
"Where's your wine?" asks Al.
"I don't know...it disappeared!"
"What do you mean it disappeared?! The wine had to go somewhere."
"I didn't see where it went."
"Look inside the top drawer. It has to be in there!"
Al is right of course. Upon checking I find our serving utensils sitting in a puddle of wine. Out comes every item while I mop it all up and sponge dry everything.
After dinner we watch a beautiful sunset. Our troubles are completely forgotten. Sunsets can do that to you.
Thursday August 30 Coecle's Harbor - West Neck Harbor
"When was the last time you looked at the moon with your best girl?"
I wake up during the night about 2 a.m. I remember the spilled wine glass and start giggling and laughing out loud about it. Al wakes up...
"Go back to sleep..." he mumbles. I take his advice.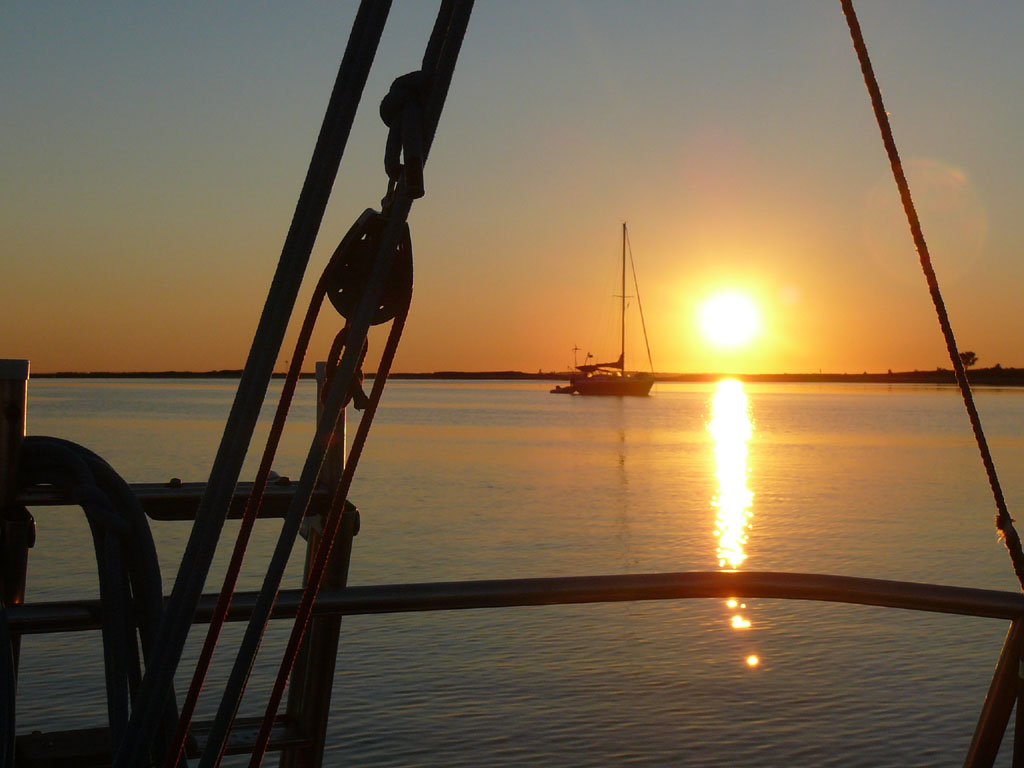 I wake up in the morning in time to see the sun rise. First the glow in the sky, the changing colors and finally the burst of the sun. It is too much for me. All I can do is thank God for everything and everyone naming my family and friends one by one...there are almost no words to describe this experience. There is only one appropriate response to a glorious sunrise and that is to bask in His love. Words just get in the way.
We motor sail out of Coecles Harbor and over to West Neck Harbor, which is not a long trip. To get there we have to cross over the Shelter Island ferry path and that can be pretty hairy. Today we do fine. No scare. Those ferries crisscross the water two at time, going and coming at the same time...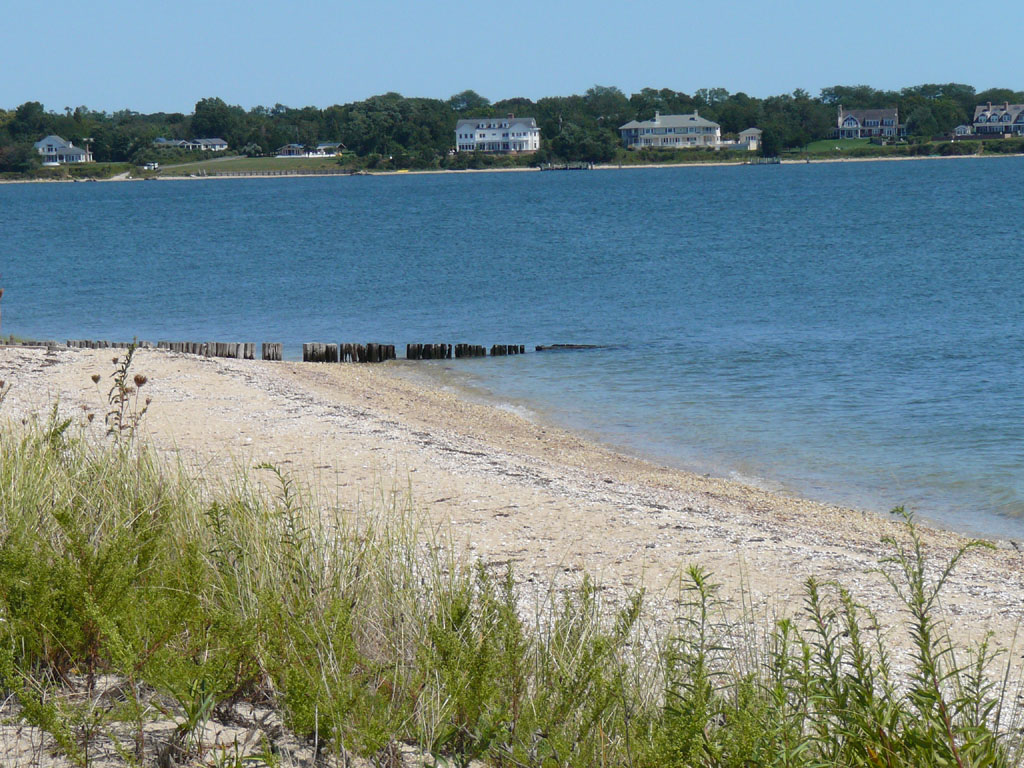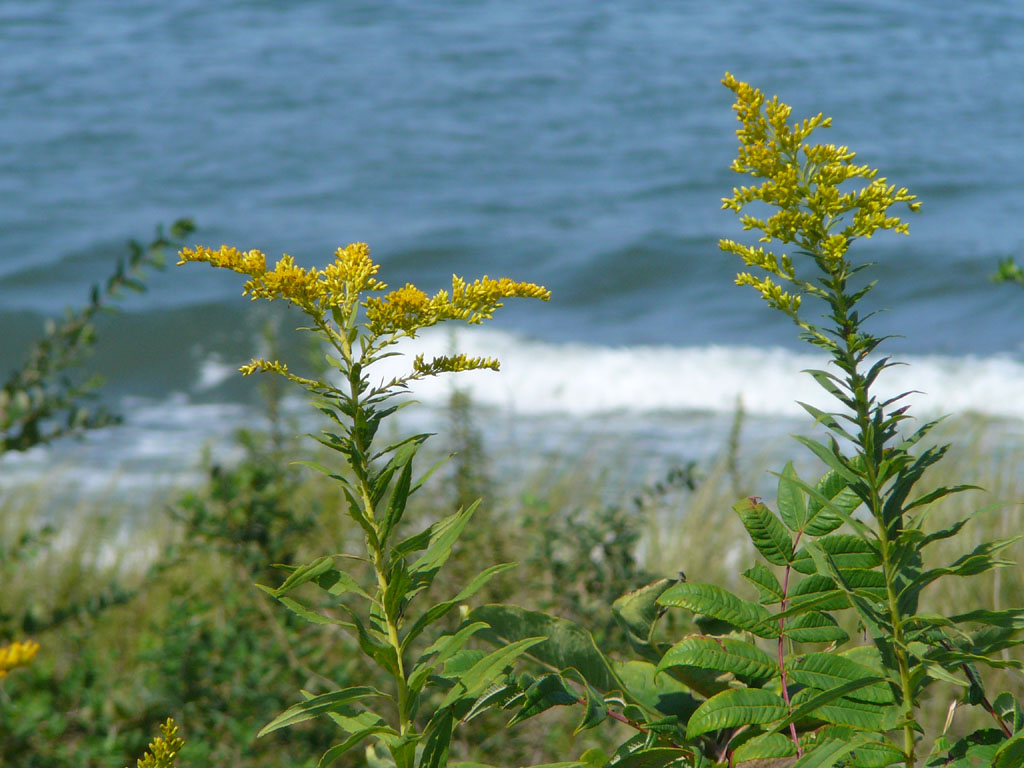 We anchor in West Neck Harbor and I spend the rest of the morning just relaxing on the boat. After lunch Al rows me to shore where I spend the next few hours walking along the causeway admiring the bay on the other side and the many wild flowers and sea gulls perching on pilings. I come upon some sunbathers on the beach and then an unusual sight.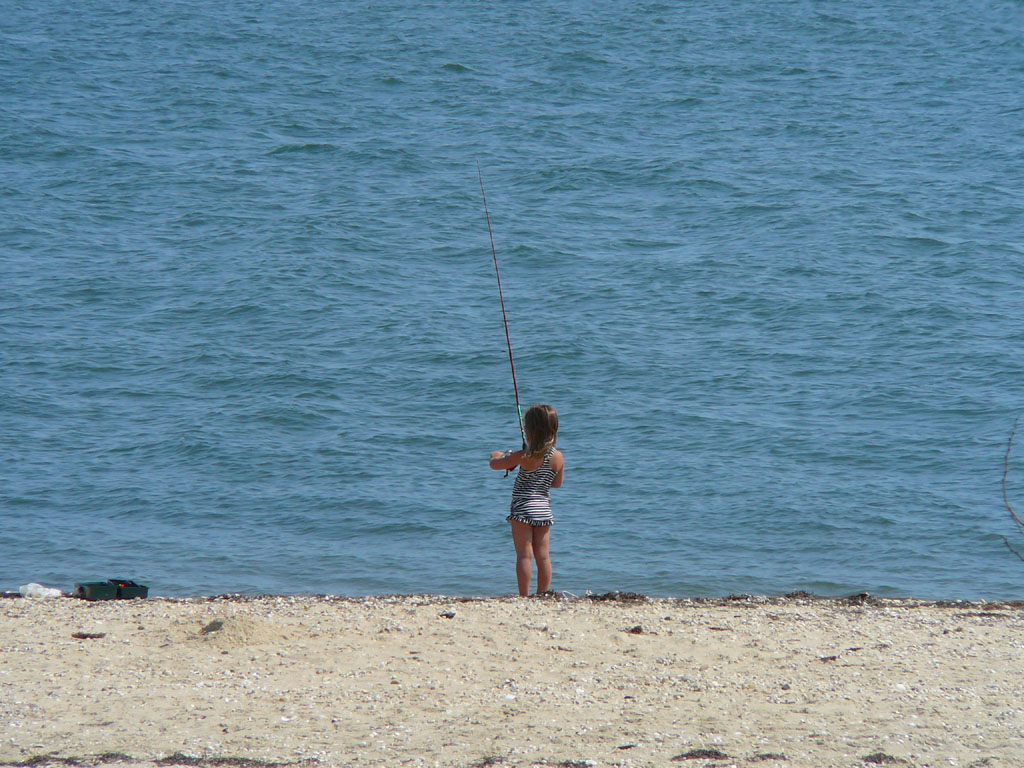 At water's edge stands a little girl of about 5 years old I'd say, and she is holding onto a big fishing pole. She stands very patiently with her line in the water waiting for a bite. Her father walks over and checks on her frequently. This is probably her first try at fishing and you can tell she is very proud and happy to have this pole in her hands.
Back from my walk I find a spot on the beach near our sailboat and set up my beach chair. The water looks inviting. I test it out. Feels good to me...and in I go for a good swim. Later I am reading and hear a familiar "put-put." Here is Al coming to pick me up using the dinghy motor!
"I found a way to get gas from our tank into the dinghy engine," Al smilingly acknowledges. It is quite the process. I will let him tell you how he did it.
Filling the 2 HP Honda without spilling fuel into the water is a problem. The system I've settled on is to let the engine run out of fuel, then fill it from a pint sized soda bottle that I keep on board - just dump it in. The problem was that I had to fill the soda bottle. The engine on Sea Cup has an electric fuel pump, and the electrical power is controlled by the battery switch (by the engine) and the key switch (in the cockpit). With the battery switch off, I turned on the key switch. Then down at the engine, I disconnected the fuel line from the carburetor and lead the line into the soda bottle. Turning on the battery switch started the fuel pump, pumping fuel into the soda bottle. When it was full enough, I just turned off the battery switch and the pump stopped. Reconnected fuel line to the carburetor, and things were back to normal.
There is a family of four on the beach that leaves an inflatable 'AirHead' boat on the sand when they leave. After an hour or so Al calls 911 and reports the craft left on the beach. An hour later a policeman comes by truck and takes it away.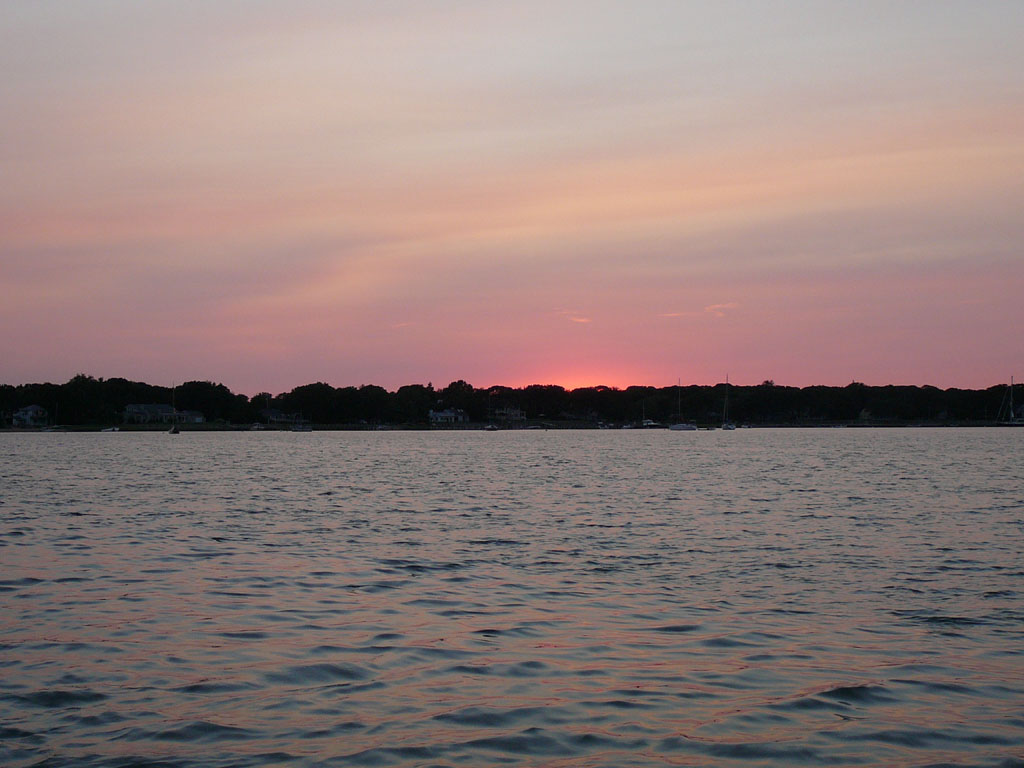 The sunset is stunning followed by the rising of a full moon which soon turns into a golden color with a trail shimmering over the water to our boat.
"When was the last time you looked at the moon with your best gal?" I ask Al. Al comes to join me on deck.
"Yesterday," he answers.
No matter. You can never tire looking at the moon like this.




Friday August 31 - West Neck Harbor to Coecles Harbor
"45 out of 47 isn't bad..."
The wind is blowing hard today. Al puts a reef in our mainsail and we motor-sail out of West Neck Harbor for the short trip back to Coecles Harbor. This time crossing in front of two oncoming Shelter Island ferries isn't so easy. We slowly get through but not without some angst on my part. The looming car ridden ferry moving steadily towards us as it churns up the water is still in my mind.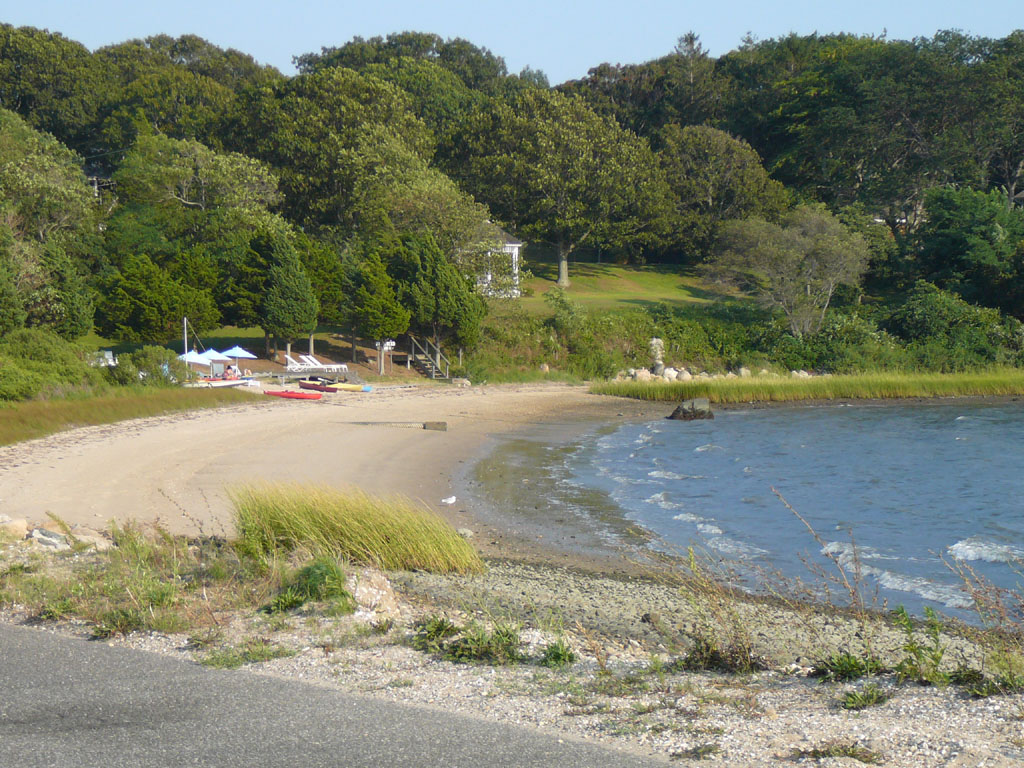 Tonight Al and I plan to celebrate our 47 years of married life by going out to dinner at the Ram's Head Inn in Coecle's Harbor. For us this is never an easy feat. We have eaten there numerous times in the past.
"I am never looking my best when I am at the Inn," I tell Al. "We always seem to arrive looking drenched and like we are survivors of some accident at sea!"
We have had some rough dinghy rides across the harbor in the past so this time we choose to tie up at one of the Rams Head Inn moorings (RHI). This mooring has a long looped stick on it with a large "eye".
"We have done this before," Al assures me as he hands me the line. "It's just like at Cuttyhunk. Just thread it through the eye."
I do thread the line through the eye without a problem as Al steers the boat alongside, but I fail to cleat the line. I think I can just hold on to it. How wrong I am! I am no match for the pull of the line so I have to let it go. Once again Al makes a pass at the buoy and this time I quickly thread the line through and cleat it right away. Phew! We make it.
"Tonight I want you to make a speech at the dinner table about how happy you are being married to me for 47 years," I tell Al. Al is quick to reply,
"Yes, 45 wonderful years!"
"What do you mean 45 years?! What about the missing two years?" I ask.
"Hey, 45 out of 47 isn't bad," Al quips. Wise guy!
We are moored next to a sailboat named, "Pitiful Pearl". Pitiful Pearl? I ponder this in my head...what is a pitiful pearl? Neither Al nor I can think of the meaning. If you think you know, dear friend, please let me know. I am still clueless.
We make a reservation for dinner from our boat. I enjoy an afternoon swim off the boat and shower. Shortly after that Al and I dinghy over to the Rams Head Inn dock and walk up the hill to the Inn.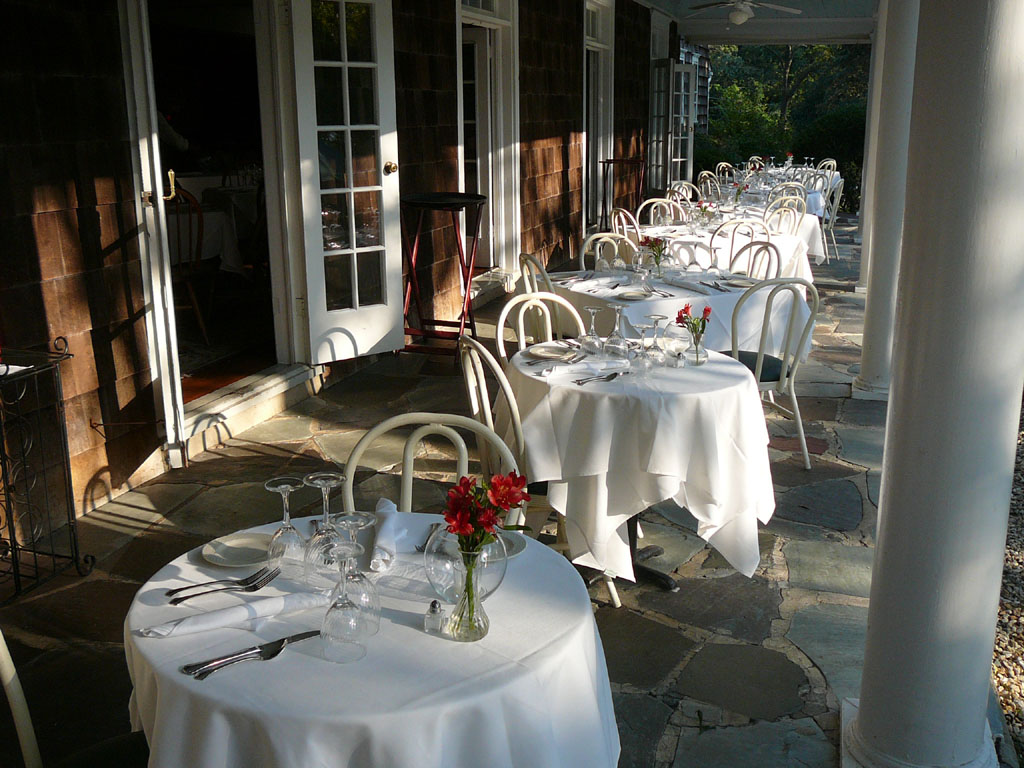 This is a lovely large Inn with a long sloping lawn flowing down to the harbor. Guests of the Inn are using the beach, sitting in lawn chairs holding hands and talking, two boys are playing tennis and little kids use the swing set. There is a thick peace that envelops the property and settles around you like a warm blanket. We find it like this every time we visit. We sink into the peace gratefully.
The Inn has a large inside dining room with french doors opening to the outside terrace which also is set up with tables, table linens, tableware and candles. A vase of fresh cut local wildflowers decks the center of each table. No one is sitting indoors on this warm August night. All the guests including Al and me choose to sit on the terrace.
I order the swordfish special and Al orders the duck dinner. We also ordered a salad to share - roasted beets and arugula. My swordfish comes with a zesty paella with corn...the flavors are unfamiliar but oh so delicious. Al's duck comes with a sauce that's an emulsion of port wine and bittersweet chocolate. Amazing! This is gourmet eating at its best.
The sun sets before our eyes, and many of the diners leave their tables to walk down the lawn and watch the sunset from the gazebo. After dinner we stroll back to our dinghy and then back to our boat. Once again the full moon entrances us. We are under the spell.
Saturday September 1 - Coecles Harbor- New London
Before leaving the harbor this morning for our trip back to New London, We power around the boats at anchor across the harbor looking for other Cruising Club of New England (CCNE) boats. We know they are congregating there today. We only find one...the "Sundance" Nordic tug bobs at anchor but there is no sign of life onboard. Our friends Bob and Kathy Johnson are nowhere to be seen.
"I guess they are still asleep", says Al.
We were unable to go on the CCNE cruise this summer and we miss our CCNE friends! We plan to join them next summer. The trip back to New London is uneventful. One tack takes us to Plum Gut, then the wind shifts easterly enough for us to lay Sarahs Ledge. We do spot the "Sea Deuce" with our friends Al and Donna Feir on their way over to Coecles Harbor. They do not see us. I should tell Donna that I bought some "Clorox Wipes" for our boat at her recommendation. It does a nice job on mildew. Thank you, Donna!
We are at peace, still under the spell and oh so glad to be on the Sea Cup again. We are both grateful for this time away together. Al is right. We have had at least 45 wonderful years together. 45 out of 47 years isn't bad!